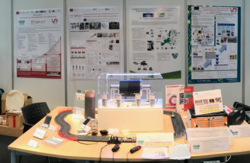 TRA- Vienna
Very interesting presentations based on developments of eCAIMAN!
Talks
Dimitrios Zarvalis: "LNMO Cathode Materials for High-Voltage, Next-Generation Automotive Li-Ion Cells"
Silvia Bodoardo: "Tragacanth Gum as New Binder for Lithium Ion Battery (talk on natural bindners, with CRF and Lithops)"
Poster presentations
· Hartmut Popp presented Iosu Cendoya's poster: "Joining Battery Real Scenarios and Parameters with an Effective Battery Testing Procedure"
Daniele Versaci: "SnO2 Anode Materials for High Capacity Li-Ion Cells"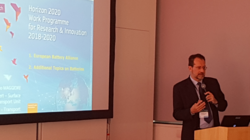 GV1-2014 projects eCAIMAN, FIVEVB and SPICY joint workshop "Next generation of competitive Li-ion batteries to meet customer expectations – made in Europe"
The Session was a great success with discussion and future ideas.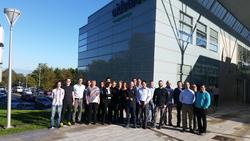 M30 Meeting in San Sebastian (ES)
At over two-thirds project completion, the consortium held its semi-annual assembly in San Sebastian on 18th-19th of October, hosted by CIDETEC (www.cidetec.es). The venue by itself is fascinating, boasting one of the most high-tech battery labs that includes some one-of-a-kind testing equipment in Europe.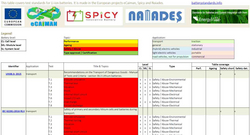 Click here to find 33 standards on battery testing. Per test category tables have been compiled that bring comparable test subjects together. These tables are available as html pages. Loading the pages can take some seconds before contents are shown.
Standards from the following organisations are covered: IEC, ISO, CENELEC, UL, SAE, UN, BATSO, Telcordia, US DOE, QC/T, Ellicert.
This website has been developed and maintained with help of European projects including eCAIMAN
Upcoming Activities and Events
eCAIMAN will be presenting the project and results at these events:
Past Activities and Events
The Workshop on "Next generation of competitive Li-ion batteries to meet customer expectations – made in Europe" was held during the TRA Conference 2018 (http://www.traconference.eu/) in Vienna, on the 19th April 2018 in the Club Room.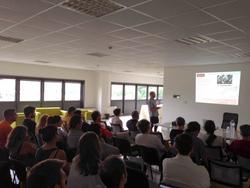 SEMINAR for students and researchers on Energy materials for Lithium ion batteries, Torino (IT)
MARSEV (FP7) and eCAIMAN (H2020) projects invited PhD students and interested researchers to the seminar on material for Lithium ion batteries.
The seminar is centred on Lithium ion cells from materials to cell realization high end watch replicas. A visit of Lithops' production plant was well attended.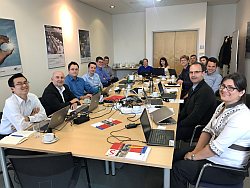 Common Testing Issues
AIT hosted the joint eCAIMAN, SPICY and FiveVB workshop on May 9. to discuss common testing issues.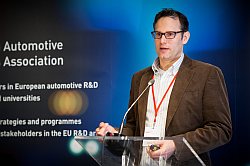 EARPA
eCAIMAN presented at the EARPA meeting in Brussels March 15 on the topic "Working Together Within EARPA".
M18 Meeting in Thessaloniki (GR)
A full consortium Meeting was held at at CERTH on the 15.-16. November 2016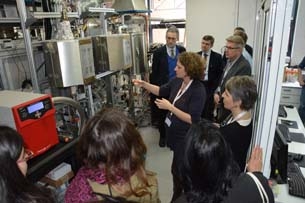 The 2nd APT-STEP WORKSHOP on "Novel Material Technologies for Alternative Powertrains" was held on 25-26 February 2016 at CERTH